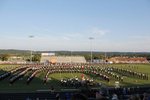 Combined Catoosa County Bands
Thursday, September 5, 2013, the Heritage High School, Lakeview-Ft. Oglethorpe High School, and Ringgold High School Marching Bands presented their 2013 marching shows at the 3rd Annual Catoosa County High School Marching Band Exhibition at Tommy Cash Stadium, Lakeview-Ft. Oglethorpe High School, Ft. Oglethorpe, GA. All three bands combined to perform the Star Spangled Banner beginning at 7:00 p.m.
Admission was free and open to the public. The band programs collected non-perishable canned food items at the gates to support the Christ Chapel Food Pantry Ministries for Catoosa County.